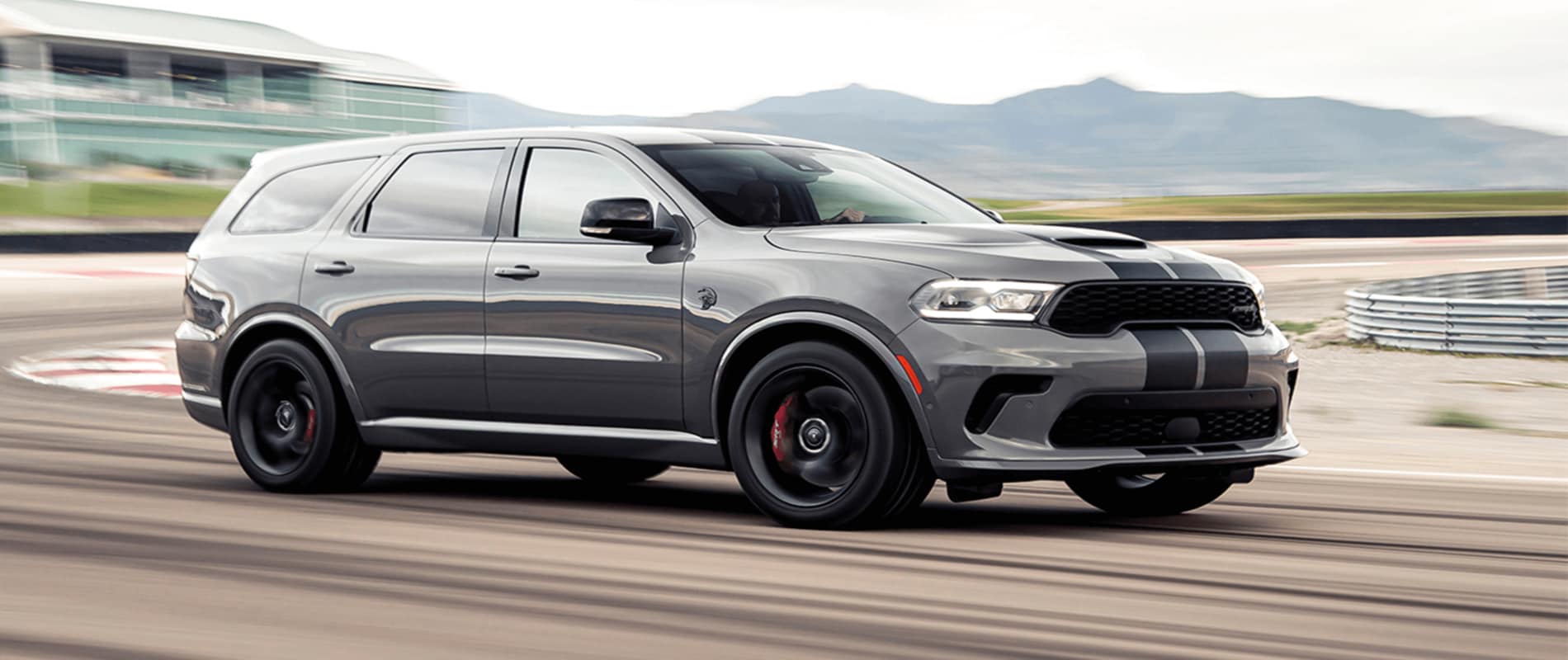 Dodge has released an electrifying lineup of upcoming vehicles. Here's a guide to these New Dodge cars available later this year.
2023 Dodge Durango SRT® Hellcat – Available Late 2022
The Dodge Durango SRT® Hellcat was originally introduced as a one-year-only model for 2021. However, due to popular demand, Dodge will be releasing a 2023 Dodge Durango SRT® Hellcat later this year. This SUV balances power and speed with 710 horsepower, 645 lb-ft of torque, and the ability to tow 8,700 lbs.
Motorists can customize drive modes on the 10.1-inch infotainment screen, with the option to modify settings such as shift speeds, steering, and suspension. Available Plus and Premium packages allow you to further personalize your vehicle with upgrades such as a power sunroof, red seatbelts, and a 19-speaker sound system.
2023 Dodge Hornet – Available Late 2022
The 2023 Dodge Hornet is an upcoming powerful compact utility vehicle (CUV) with aggressive Dodge styling. It sports an all-new illuminated Dodge Rhombi logo on the taillamp, making the vehicle recognizable even from a distance.
But this logo isn't the only new feature on this model. The 2023 Dodge Hornet R/T trim is a plug-in hybrid (PHEV), the very first electrified performance vehicle from Dodge. This PHEV sports red stitching accents, race-inspired Alcantara seats, and the classic Dodge front-end design.
The 2023 Dodge Hornet R/T also hosts a brand-new PowerShot feature which delivers an on-demand 25 horsepower boost and instant torque for 15 seconds. This burst of extra power reduces the vehicle's typical 0 to 60 mph time by one second.
Our dealership offers new and pre-owned vehicles, as well as a vehicle reservation program and the option to place a custom factory order. If you're interested in learning more about upcoming Dodge vehicles, visit or contact MotorWorld Chrysler Dodge Jeep RAM.